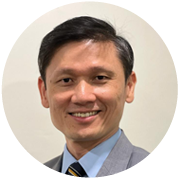 Chong Kian Soon
Kian Soon, the Founder and CEO of IA Essential has more than twenty (20) years of experience in governance advisory, risk management transformation, investigation, financial due diligence, review of internal audit functions of financial institutions, control and process improvement, anti-bribery readiness and ESG reviews.

A regular speaker on GRC subject matters, Kian Soon has also led several control review engagements for IPO exercises in Malaysia and Singapore and contributed his leadership thoughts on GRC in professional publications. Besides Malaysia and Singapore, Kian Soon has led the IAE teams and completed assignments in Indonesia, Vietnam, Hong Kong SAR, China, Spain, Romania, Germany and Mexico.

Outside of work, Kian Soon re-charges himself by doing his self-designed Tabata workout, reading, meditating, preparing her daughter for exams, watching Netflix and F1 races with his family, and handling house chores assigned to him by his family.